Monthly Energy Club Launched – Pathways Community Support
Are you worried about your energy bills?
Do you need help understanding your gas and electricity bills?
Are you finding it difficult to makes ends meet?
If you are unsure where to turn for information and advice then join our friendly staff and volunteers and receive help in a number of different ways.
The last Thursday of the month 11am – 1pm –  Pathways Community Support, George Denyer Pavilion,  Haslemere GU27 2AX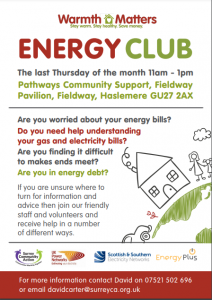 Our website uses cookies
We use cookies to give you the most relevant experience by remembering your preferences and repeat visits. Click "Lets Go!", to consent to ALL the cookies, or "None" to inhibit cookies apart from necessary ones, or choose your own settings by clicking on "Cookie settings".
Read MoreCookie settings
NoneLets Go!
Privacy Overview
This website uses cookies to improve your experience while you navigate through the website. Out of these cookies, the cookies that are categorized as necessary are stored on your browser as they are essential for the working of basic functionalities of the website. We also use third-party cookies that help us analyze and understand how you use this website. These cookies will be stored in your browser only with your consent. You also have the option to opt-out of these cookies. But opting out of some of these cookies may have an effect on your browsing experience.