Christmas Carols – 16th December 2021
CHRISTMAS CAROLS ARE BACK IN THE HIGH STREET !
Christmas is back on this year and we are excited to announce that our Christmas event will take place on December 16th.
Haslemere Town Council is hosting an evening of festive entertainment with shops offering late night shopping opportunities (we have secured free parking in Waverley owned town centre car parks from 3pm).
Join us around the Christmas tree to sing carols accompanied by the Haslemere Town Band from 6:30pm, with free mulled wine and mince pies courtesy of the Chamber of Trade & Commerce.
With thanks to Business Support Service at Wavereley Borough Council and Chamber of Trade and Commerce.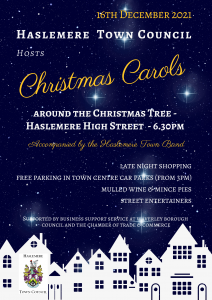 Our website uses cookies
We use cookies to give you the most relevant experience by remembering your preferences and repeat visits. Click "Lets Go!", to consent to ALL the cookies, or "None" to inhibit cookies apart from necessary ones, or choose your own settings by clicking on "Cookie settings".
Read MoreCookie settings
NoneLets Go!
Privacy Overview
This website uses cookies to improve your experience while you navigate through the website. Out of these cookies, the cookies that are categorized as necessary are stored on your browser as they are essential for the working of basic functionalities of the website. We also use third-party cookies that help us analyze and understand how you use this website. These cookies will be stored in your browser only with your consent. You also have the option to opt-out of these cookies. But opting out of some of these cookies may have an effect on your browsing experience.