Rock Rainbow Installation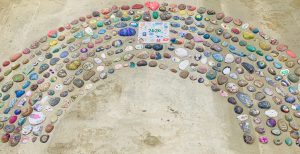 The Rock Snake was first started in May 2020 by Karen Gleave, Jo Wright, Ali Craig and their daughters Hannah, Holly and Ada as a distraction from lockdown, and in an effort to encourage both children and adults to be creative and have something nice to look at on their daily walks. It was lovely throughout the year to see people stopping to admire the stones 'snaking' along the footpath of Lion Green. Some pieces created by adults were stunning in their detail, others were created by children and in some cases just made with a sharpie pen or glitter glue, but all were truly unique pieces of art.
As the Rock Snake grew it became apparent that the 'snake' needed a new permanent home; Haslemere Town Council agreed to sponsor a new location, and after a community vote the Council arranged for its installation next to Lion Green playground as a memorial to the Covid crisis of 2020.
On Friday 5th March it was officially unveiled in its new form as a "Rock Rainbow'.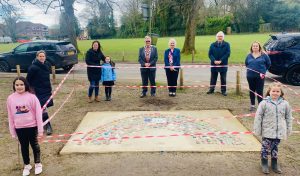 Important Information
Community Help - Covid-19
There are several community groups which have been set up to assist residents during this difficult time: