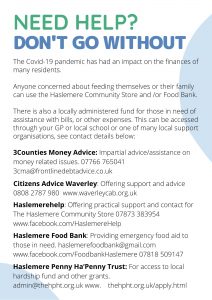 There are several community groups which have been set up to assist residents during this difficult time:
Pathways Community Support is a Haslemere Town Council initiative which operates from the Fieldway Community Pavilion in Haslemere and has been set up to compliment the great work of existing support organisations Haslemere Support Organisations. to find out more visit Pathwasys on https://haslemeretc.org/haslemere-community-store/pathways-community-support/
In order to maintain a service to our residents, we have decided to make access to the Town Hall office by appointment only. If you need to make an appointment, please mail admin@haslemeretc.org or call 07873 383943
Think you have Coronavirus?
If you think you may have been infected with the coronavirus do not go to a GP surgery, pharmacy or hospital but access the NHS coronavirus service:
Go online at https://111.nhs.uk/service/covid-19
COVID19 Updates
Please check the Government website for the  most recent advice: https://www.gov.uk/guidance/coronavirus-covid-19-information-for-the-public​
"Good hygiene is the best prevention and there are some simple steps you can take to protect you and your family by washing your hands regularly and thoroughly and if you cough, cover your mouth and nose with a tissue. "If you have recently been to one of the affected countries and are feeling unwell, you should phone the NHS 111 helpline for further advice straight away – please don't go to your doctor or a hospital – There's lots of advice on how people can protect themselves online at www.nhs.uk/coronavirus"