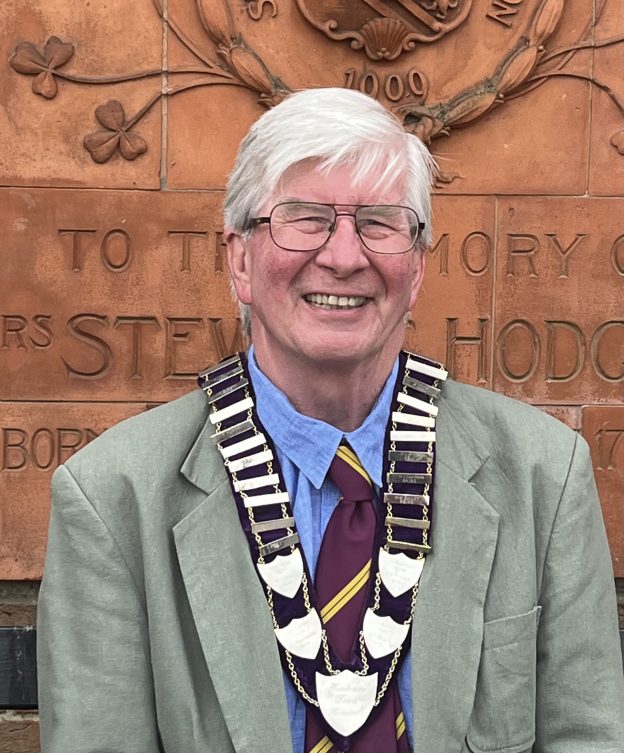 Councillor Jerome Davidson was elected as Haslemere's Town Mayor in May 2023 and will hold the position until May 2024.
The Mayor is Haslemere's first citizen and chairs the Full Council meetings and represents the town at civic and ceremonial functions.
He acts as an ambassador for Haslemere, promoting and upholding the character of the town, and supporting community groups and projects.
The Mayor's Charities ​
Every year the Mayor chooses a charity for which he/she wishes to raise funds during the mayoral year. This year's charities chosen by Councillor Jerome Davidson are:
Crossways Counselling Services
Crossways provides a professional counselling service in Haslemere and the surrounding area for individuals, couples and young people aged 11-18, who otherwise would not be able to afford private counselling sessions. We have a team of 10 counsellors who have either a degree or MA in counselling and abide by the Code of Ethics of the British Association for Counselling and Psychotherapy. Crossways offers help and support to individuals who are experiencing a variety of difficulties.
Royal British Legion
Branches are the lifeline of the Legion and the volunteers that run them work tirelessly to raise funds and provide welfare support whilst offering a social focus for their members to meet.
Should you wish to donate funds to the above causes you can do so via your bank (BACS), our details are as follows:
LLOYDS BANK
HASLEMERE MAYOR'S FUNDRAISING
ACCOUNT NUMBER 37450168
SORT CODE 30-93-94
MAYOR'S ATTENDANCE AT AN EVENT
If you would like the Mayor to attend an event please contact the Mayor's Secretary, once confirmed you will be asked to complete and Engagement Form.
Please also read our Mayor's Protocol guidance which provides information and guidance on the correct protocol to follow when the Mayor attends your event. This will help to ensure that the occasion runs as smoothly as possible and you get the most out of your time with the Mayor.
The Deputy Mayor
The Deputy Mayor for 2023/2024 is Councillor Claire Matthes
Mayoral Roll of Honour
Below is a list of all Mayors from 2000 to the present day.
2022/23                   Mrs Jacqui Keen MBE
2021/22                    Mr Simon Dear
2019/21                    Mr John Robini
2018/19                    Mr David Round
2017/18​                    ​Mr Malcolm Carter
2016/17                    ​​Mr Sahran Abeysundara
2015/16                    ​​Mrs Melanie Odell MBE
2014/15                    Mrs Penny Bradley
2013/14                    Mrs Libby Piper
2012/13                    Mrs Cyndy Lancaster
2011/12                     Mr Jim Edwards
2010/11                     Mrs Melanie Odell
2009/10                   Mrs Melanie Odell
2008/09                  ​​Mr William King
2007/08                  Mr Stephen Mulliner
2006/07                  Mr Brian Howard
2005/06                  Mr Michael Dover
2004/05                  Mrs Jean Arrick
2003/04                  Mr Michael Foster
2002/03                  Mr Stephen Mulliner
2001/02                   Mr Michael Barnes
2000/01                   Mrs Fay Foster